MASCOAT
Mascoat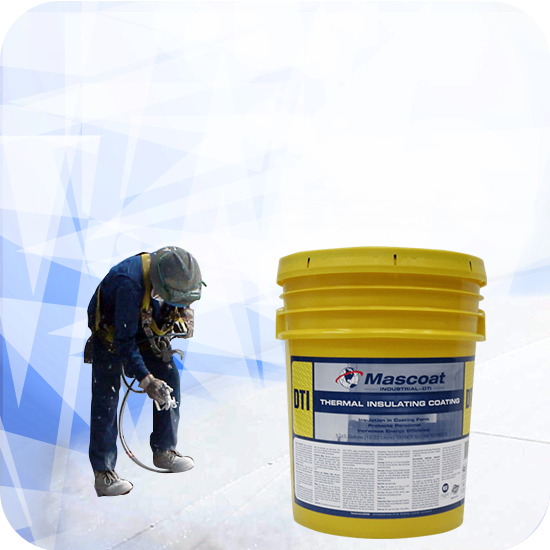 Mascoat Industrial-DTI is a composite ceramic insulator that's formulated to provide thermal protection for tanks, vessels, boilers and other facility surfaces up to 375°F (19O°C). This premium, multi-use product is a microscopic matrix of air-encapsulated ceramic particles, which are suspended in a high-grade acrylic binder. The coating's high-tech formulation can be sprayed on as a combined paint and insulation system, improving equipment aesthetics while protecting substrates, safeguarding personnel and preventing corrosion.

Mascoat Industrial-OT! has been tested to ASTM standards and exceeds most criteria for weatherability, adhesion, flexibility and UV resistance. Because of its proven durability and versatility, it is an ideal insulator for storage tanks, vessels, heat exchangers and transfer pipelines in a variety of industries-including paper & pulp, food & beverage, asphalt and petrochemical refining. For applications requiring more aggressive insulation, the coating can be applied in multiple layers while still allowing for full substrate viewing and easy maintenance.
Facilities that rely on Mascoat Industrial-DTI also enjoy improved personnel safety by protecting personnel from substrate burns and heat-related injuries. In addition, the science-based coating helps to stabilize interior equipment temperatures, which reduces energy loss, saves money and improves manufacturing efficiency.
Contact Mascoat today to inquire about application forecasting and product pricing-or to ask about products that suit your specific project.
---
USES
•Pressure Valves •Heaters
•Piping •And much more....
•
Provides thermal insulation

•Adheres to most substrates
•Prevent CUI (Corrosion Under Insulation)
•Provides personnel protection
•Increases efficiency and saves energy
•Rapid application procedure reduces man-hours necessary for installation compared to conventional insulation

This products is accepted for LEED Certification Points.





Mascoat-DTI Insulation เป็นฉนวนป้องกันความร้อนคุณภาพสูง
ชนิด Ceramic Coating ทำมาจาก Hi-Grade Acrylic Water Base
เป็นสีอะคลีลิคชนิดน้ำคุณภาพสูงไม่มีสารพิษไม่มีสารทำละลายเป็นมิตรกับสิ่งแวดล้อม
ด้วยนวัตกรรมใหม่ด้วยการพ่นเคลือบติดกับชิ้นงานลดการสูญเสียความร้อนและ
เพิ่มประสิทธิภาพการใช้พลังงาน ป้องกันการเกิดสนิมลกการกัดกร่อน CUI
ลดอุณหภูมิบริเวณที่ทางานโดยรอบ
ป้องกันการเกิดอุบัติเหตุ พนักงานถูก
ความร้อนจากการสัมผัสโลหะ พ่นเคลือบ โดยที่ไม่ต้องปิดระบบ บำรุงรักษา
ซ่อมแซมง่าย ป้องกัน UV 99.99% กรณีที่ติดตั้งใช้งานภายนอกอาคาร
ในระยะยาวต้นทุนจะต่ากว่าฉนวนทั่วไป การเผาไหม่ Class A ไม่ลุก ไม่ลาม
ไม่สร้างสารพิษ อายุการใช้งานยาวนานกว่า 10 ปี